After two years of the winter season being impacted by covid-19, 2022 is the first year that consumers are seeing a return to an unrestricted Christmas. Although many hospitality businesses are now facing several other crises, the report shows there's some light at the end of the tunnel for many, with opportunities for pubs, bars and restaurants to still make the most of consumer spending this Christmas.
There's no denying that the pandemic has left lasting changes to consumer behaviour and spending habits. After surveying consumers who celebrate Christmas and had visited an on-trade venue within the past two weeks, the results were surprising.
Although bar visits appear to be relatively low, the appetite for pub and restaurant visits remains rife. Just 11% of those surveyed had visited a bar in the past two weeks, just a 1% increase on 2021 numbers. Contrastingly however, 34% had visited a restaurant.
Have you visited a pub, bar or restaurant in the past 14 days?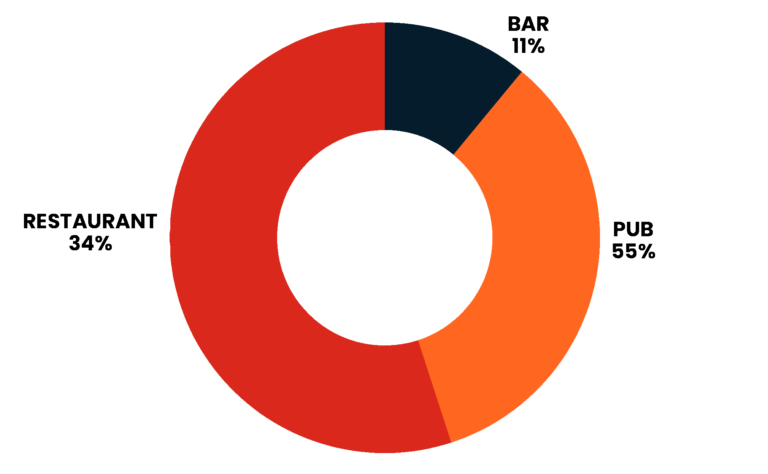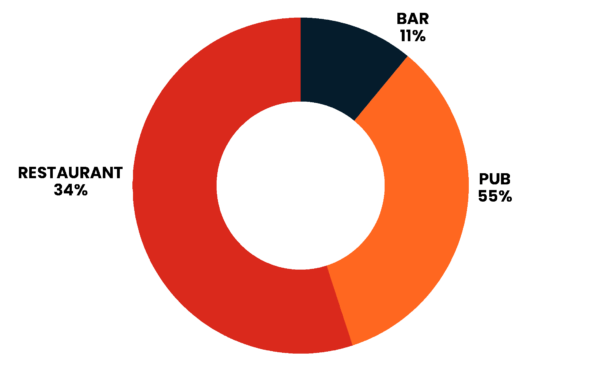 What did you visit for?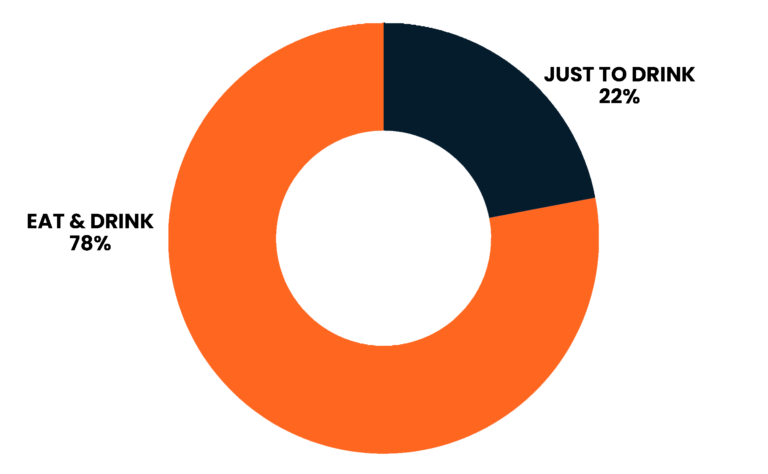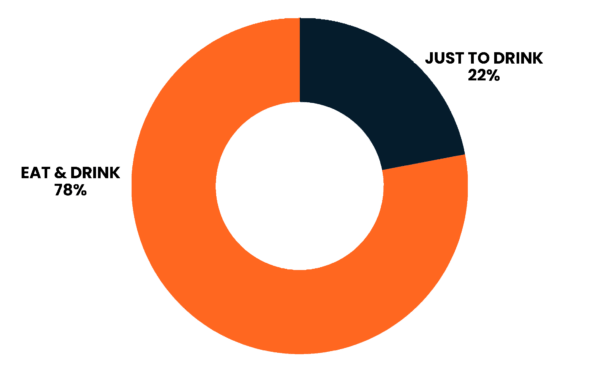 Rosie Edwards, Senior Research Executive at Savanta explains the trends further.
The UK public is cautious
Intentions to drink out on Christmas day have fallen significantly vs 2021 figures, standing at just 2% ahead of 2020 mid-pandemic levels when restrictions were in place.
Only 1 in 10 say they are intending to eat their main Christmas meal at a pub, bar or restaurant this year.
Fewer consumers are planning to eat and drink out after work with their colleagues this festive season.
There are opportunities for operators
Despite fewer planning to head out on Christmas day, more are expecting to head out for drinks and food at least four times throughout the festive period.
More consumers are planning to eat and drink out with friends and family.
Though half of consumers plan to spend less this year, 16% of Gen Z and 15% of millennials say they'll splash out more.
7 in 10 consumers intend to visit a pub, bar or restaurant during their Christmas shopping trips.
Quality over quantity
Good quality food and drink remains the key driver in deciding where to go for consumers keen to treat themselves. Promotions and deals come in a close second, showing that value for money remains a key priority.
What factors are important when choosing where to go? (Change since 2021)


Keep the drinks classic
Beer is firmly the favoured drink for Christmas consumers this year (42%), closely followed by wine (39%), soft drinks (27%) and cocktails (26%). Interestingly, only 4% said they'd be keen to purchase a festive serve, supporting the trend that consumers are expecting to be less adventurous than previous years. In fact, the only drink to see an increase in popularity this year is the spiced latte (up from 13% in 2021 to 15% in 2022).
What will you drink out of home this year?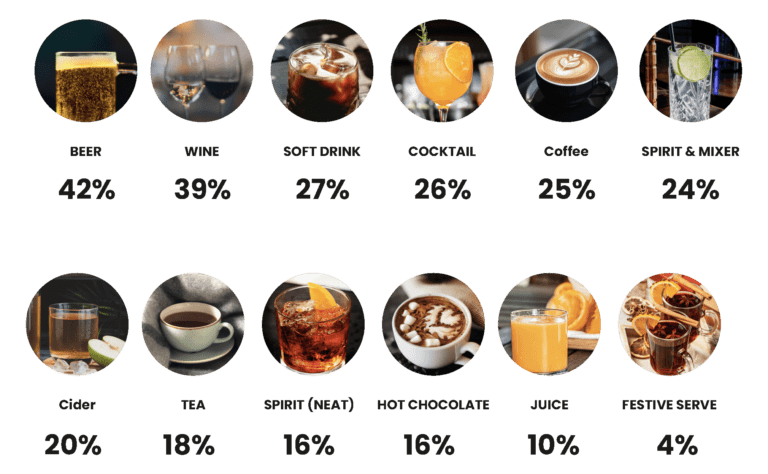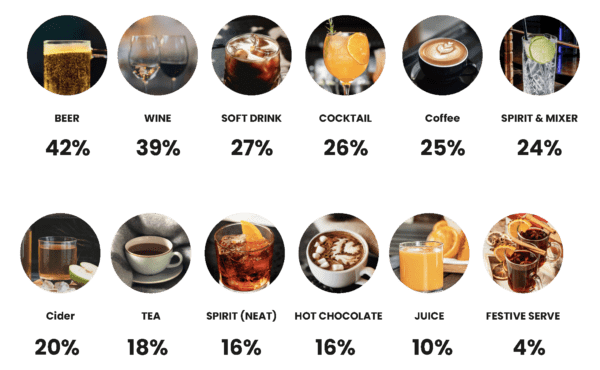 Where to go?
Unsurprisingly, the traditional pub remains at the top of the list of places to visit for soaking up the festive spirit. 58% (56% in 2021) said they're setting their sites on a pub whilst also popular are casual & local restaurants with 34% (27% in 2021) keen to visit at least once this Christmas.
Thinking about going out over the holidays – where will you go?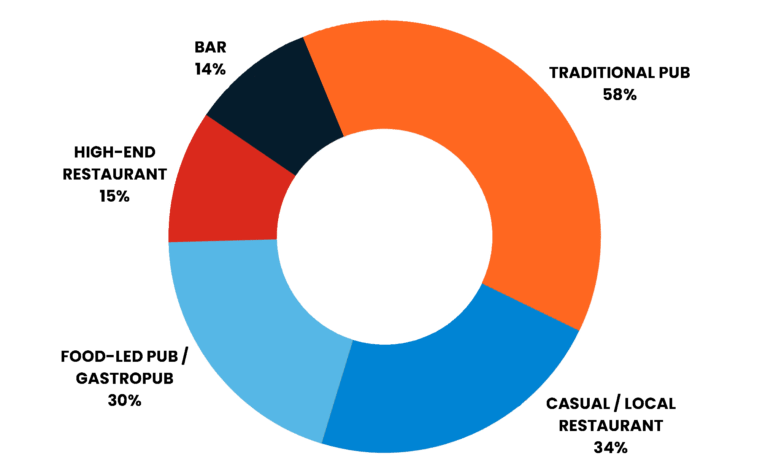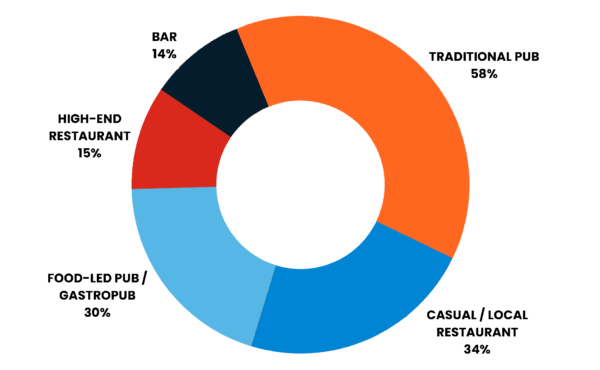 So what should hospitality businesses be bearing in mind?
Consumers are tending to be less adventurous this year, with 6 in 10 saying there's already enough choice available. So make sure classic, traditional crowd favourites are in your offering and tailor your menus to suit. Making sure your ByTable and TouchMenu offerings are up-to-date and highlighting your best-sellers is vital.
Good quality food and drink is the main driver when choosing a venue, so focus on excellence with your Christmas offering. 56% say they will eat a traditional meal when they head out this Christmas. Keep on top of your stock levels and management with software like TouchStock.
During the festive period, atmosphere becomes the main driver of choice and 83% are expecting venues to be lively.
Advertising inside your venue has significant influence, but social media is also impactful. Take advantage of push notifications via your ByTable apps, too – it's a great way to get your marketing messages literally in the hands of your customers.
Don't forget passing footfall. 36% say that a visit to a pub, bar or restaurant is essential during their Christmas shopping trips. Capture passing trade with engaging Digital Signage.
For more tips and tricks on how to benefit from the festive rush, and the tech you need to ensure efficient operations, head over to our recent blog post.