The annual ICRTouch Partner Network awards were held last Friday (19/01/18), celebrating another year of excellence from the nationwide network of partners that provide and support the ICRTouch product suite.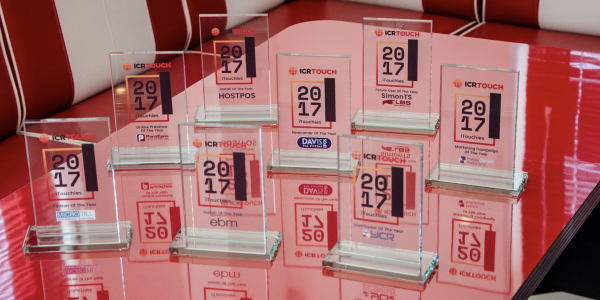 ICRTouch had its most successful year by over 20% yet again in 2017 thanks to the hard work from it's Partner Network, shipping over 14,000 licences and TouchOffice Web reaching the milestone of processing £4,000,000,000 of sales through the revolutionary cloud-based back office software. To celebrate the success in 2017, the annual iTouchies were presented last week to honour the excellence of the ICRTouch Partner Network. Below we take a look at the winners and why they are deserving of winning their awards.
UK & Ireland Install of the year – Pubs of Distinction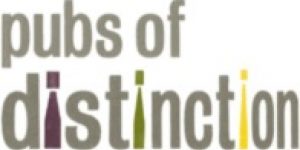 EBM won the award for UK & Ireland Install Of The Year, with their install of Pubs of Distinction, a prestigious chain of pubs. EBM installed 13 TouchPoint terminals and TouchOffice Web cloud-based back office solution across the chain.
Installation of the EBM POS system equipped with ICRTouch's TouchPoint was carried out over a three week period across five sites, with the TouchOffice Web cloud back office solution going live at the same time. From the day of initial install supervisors and managers were able to update and maintain the drink and food menus with the EBM support team on hand to help with any queries they may have.
Back Office user accounts were setup for area managers and directors to give them instant, real time access to their business data via their mobile phone, tablet or laptop.
ICRTouch have had a vast collection of case studies sent in this year from our partners carrying out fantastic installs around the globe, take a look at our case studies page for more.
International Install Of The Year – HOSTPOS | Easyway Tea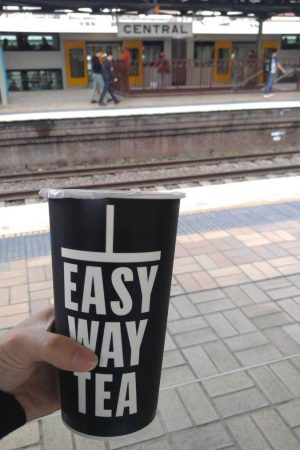 HOSTPOS won the award for International Install Of The Year, with their install of Easyway Tea of Australia. The install consisted of TouchPoint, TouchOffice Web and TouchLoyalty being implemented across 30 sites.
With the install of TouchLoyalty customers were able to accumulate points on their loyalty cards to spend across any Easyway Tea store in Australia.
ICRTouch have had a vast collection of case studies sent in this year from our partners carrying out fantastic installs around the globe, take a look at our case studies page for more.
Newcomer Of The Year – Davis EPoS

This year has seen the ICRTouch partner network grow even further with new partners across the globe reselling ICRTouch EPoS software.
Davis EPoS are one of the new ICRTouch partners and have begun promoting and representing the ICRTouch brand, as well as offering its full extensive product suite, including TouchPoint, TouchOffice Web, PocketTouch and TouchKitchen as well as customer and staff cards.
TouchPoint Skin Of The Year – Panaepos
ICRTouch's Partner Network is choc-full of till masters who just love to prod and play with TouchPoint's fully flexible skin. From this, we see a lot of pretty designs of TouchPoint throughout each year which ICRTouch like to recognise.
This year's winner for TouchPoint skin of the year was Ryan from Panaepos with this complex, branded redesign.
Online Presence Of The Year – Panaepos

Our many partners showcase the ICRTouch brand and the products they are able to provide and support online. An effective website is vital to reaching out and attracting new customers, which our Partners realise. With hundreds of partners across the globe, this award can become quite competitive, resulting in attractive, easy-to-use, informative websites. What is also key in reaching the online market is effective use of social media and other platforms such as TrustPilot.
Panaepos won the Online Presence Of The Year award for a variety of reasons such as clear consistent branding, appealing design & aesthetics, and ease for potential customers to find their favourite ICRTouch products. They are also rated number 1 on TrustPilot for the industry and are consistent with effective use of social media.
Marketing Campaign Of The Year – Media Screen Solutions

ICRTouch like to celebrate the marketing efforts put in by the partner network, as it lets customers know just how accessible ICRTouch partners are throughout the globe. In the UK, for example, there is likely to be an ICRTouch partner within 20 minutes of where you are willing to provide expert local support for your ICRTouch EPoS system.
Media Screen Solutions attended the Restaurant & Takeaway Expo and invested in an impressive stand alongside ICRTouch to showcase the brand in a powerful way.
Forum User Of The Year – SimonTS of Linden Business Systems
To ensure our partners are able to provide top-level support to all their customers ICRTouch provide private training for every partner and a technical support department. However, what you may not know, is ICRTouch have an internal partner forum for all the engineers and tech-whizzes in the EPoS industry to interact and discuss technical issues with each other.
User SimonTS of Linden Business Systems has been a member of the forum since 2014 and has made over 4,000 posts. Simon is very generous with his time, contributing to the communal help, discussions and support behind the scenes for the EPoS community. It is perhaps his constant interaction with other members in the forum that has allowed him to win 2017 forum user of the year as voted for by the members of the ICRTouch partner forum.
Distributor Of The Year – YCR Distribution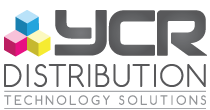 Not only have ICRTouch seen tremendous growth in recent history but so have its distributors. Distributors are a key factor in ICRTouch sales growth. They not only sell licences to existing resellers, but seek out new partners through marketing, and they provide technical support looking after them too. This is something that YCR Distribution do well, in addition to selling lots of licences.
Established in 1973 YCR Distribution are an importer and distributor of EPoS equipment.
YCR Distribution Limited continues to grow year after year. They have one overriding objective: Focus on the customer. They work hard to listen carefully and tailor their solutions to meet the customers needs with thousand of products in stock they are able to offer a next day delivery throughout the UK on all stock items. The aim of YCR Distribution is to offer a "One Stop" solution whether it be a Retail or Hospitality solution or indeed any other vertical market.
ICRTouch Partner Of The Year – Microtill

The Partner Of The Year award for 2017 was Microtill who were thoroughly deserving.
Established in 1991, the key to Microtill's ongoing success has been the determination to nurture relationships with its suppliers and their nationally recognised business partners. With a supply chain network stretching across the UK they continue to provide ongoing innovative and progressive solutions that deliver growth, irrespective of scale.