Over the last few months, ICRTouch visited some of it's Partners in the UK. We wanted to deliver some of the exciting new marketing material we have produced but also to catch up and understand their current plans and strategies for the coming year.
First leg of the tour – South West of the UK.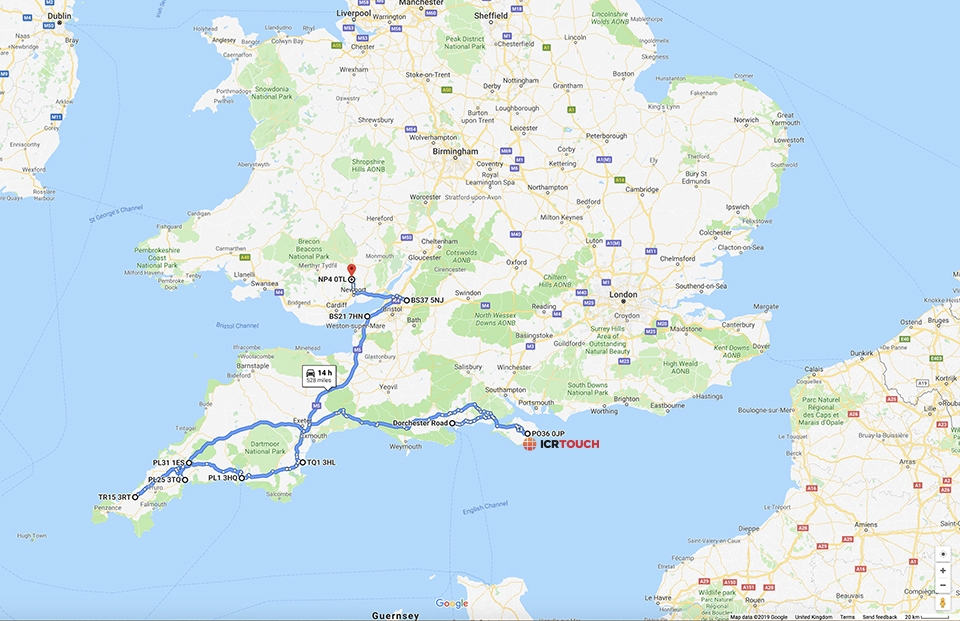 First up on the tour was County EPoS.

– County EPoS
Their show-bar demonstration area is very unique, with ICRTouch software running on tablets mounted to the wall and a fully stocked bar. A passer-by could be forgiven for thinking it is an operational bar. On display, they have multiple iTouchies awards for Best Partner and Best Install, magazines with their adverts in, sponsored sports kit in frames, branded merchandise, kegs, clothing, vans and more. Ollie and the County EPoS team have done a fantastic job supplying the Bournemouth and Dorset area, having capitalised on the stadium market securing such clients as Twickenham, Bournemouth FC, and Portsmouth FC, as well as working closely with an events company, supplying them with temporary EPoS solutions for popups.
The next visit was with BCG.

– BCG
BCG have a great demo setup including a nicely skinned TouchPoint. They have embraced the new SelfService software running on a Posiflex kiosk (available from ForPOS), which we believe will be a very popular product for hospitality in the coming year. BCG also recently have done a few exhibitions where they have promoted and demonstrated the SelfService to visitors. Their building is unmistakable, painted in their brand colours with signage and matching vans.
Ky and Paul from ICRTouch then went on to WCR in Plymouth.

– WCR
Their showroom had a great demo setup of TouchPoint, a couple of cash registers and a PDQ on a nicely branded WCR counter. ICRTouch posters are on the wall and their iTouchies award for Best Marketing Campaign proudly on display. The WCR bus is branded and must look impressive when arriving at an install. Ky and Paul left some of our new posters to replace the old ones and freshen up the walls a bit.
Next up was Western Office Equipment.

– Western Office Equipment
Western Office Equipment had a number of TouchPoint demos on display with a barcode scanner. They also had a TouchMenu running on a Minus Forum Z83-F mini PC. It had a Fish n Chip program on with an animated background of a fish tank. Our Martin praised Ed of Western Office saying, "Ed has done a fantastic job with TouchMenu. We've been talking on the phone almost daily about how to get it working the way it does, I've watched it grow. Nicely done Western Office." Western Office also wear Authorised ICRTouch Partner shirts, which adds to their professional image when visiting clients to install and support ICRTouch software.
Next up was a visit to Mike at Cornish EPoS.

– Cornish EPoS
Mike is a very busy partner of ours who supplies Cornwall but also does great work supplying the Isles of Scilly and France by plane. Mike does a great job of promoting ICRTouch products and distributing our brochures to his clients. Letting your customers know the options they have with their system may not lead to immediate sales, especially for those wanting a simple till system initially. Further down the line, however, the client will be aware of what they could be benefitting from and realise that a TouchLoyalty or TouchReservation could be just what they need.
Cornwall Scale Equipment were the next visit on the tour.

– Cornwall Scale Equipment
Jonny, Martin and the team have been supplying ICRTouch in the South West for a long time and represent ICRTouch at a lot of trade shows. Upon arrival, they already had the new ICRTouch posters up on the wall and they were very keen to have a website designed and hosted by ICRTouch after seeing a few of the sites that we have already created for a few of our Partners. A trend we saw was a lot of our partners, including Cornwall Scales Equipment, were providing remote support and TouchOffice Web has made this extremely easy for providing this type of support.
The guys went to see Del and Ross of EPoS IT.

– EPoS IT
After a 90 mile drive to the Bristol area, they went out to lunch at one of their great installs, the Star Inn. With another Authorised Partner operating in the same area, also providing ICRTouch, EPoS IT feel that rather than look for an alternative solution to provide or compete on price, they find it actually reinforces the clients' confidence in the software and cements their decision to buy ICRTouch. So whether the sale is with them or another Partner, it keeps the sale within the Partner Network rather than elsewhere.
Ky reported, "We were very impressed with their ethos, great business model, they have some great customers, and they are on for a new website from us, we were impressed!"
Next was Linden Business Systems, who have a large HQ and trade with the traditional till rolls and other consumables.

– Linden Business Systems
Ky reported, 'Linden Business… was good to see Jon, Ann, and Simon, plus the engineers. We congratulated them on their award for Forum User and their Gold Partner status. We discussed how awesome LBS is and what is new with ICRTouch. Jon loves the website we are producing for them. Happy with the PaymentSense EFT solution they provide and they keep a lot in stock. Other than that all very happy.'
The guys then made their way to Nexserve.
– Nexserve
The Nexserve team were very happy to receive the new brochures. Last year they did some great installs with nice, custom TouchPoint skins at The Black Horse, The Red Lion, and Black Dog pubs, Mizzi Foods as well as some retail such as Elecity and members club, Elite Fitness.
Ky reported, "Nexserve office is extremely well branded, they have nice TouchPoint skins on display, they represent ICRTouch well, a nice team with good knowledge".
Second leg of the tour completed – East of the UK.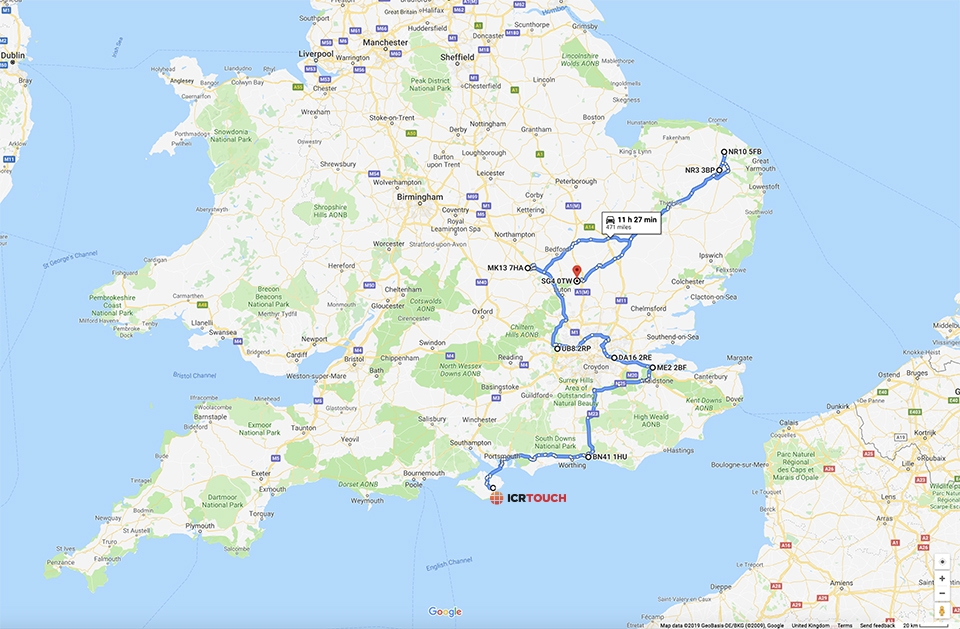 Next up was Abacus.

– Abacus
Jim, Mary and the Abacus EPoS team provide Brighton and Hove with ICRTouch solutions and are a Gold Partner. They have nicely branded cars, shop, uniform as well as ICRTouch posters and screensavers. They have done recent installs at well-known establishments in Brighton including The Daddy Longlegs and Bounce Revolution as well as supplying tills and PDQs for Brighton & Hove Pride. Ky Reported: 'Abacus has a nice office with a happy and productive workforce. What a lovely team.'
Ky and Paul then visited DHFE who already had their new ICRTouch posters leading up the staircase and their own co-branded brochures.

– DHFE
DHFE were quick to get on board with the rental model and were an early adopter of TouchOffice Web, with their first install only being our 65th connection to it.
Ky Reported 'We just visited the wonderful DHFE. With their years in this game, they have it down to a fine art, they love our brand and only supply ICRTouch and we have to say thank you for the luxury biscuits. Joe and Martina… it was so good to finally meet you after too many years.'
Our team went up to London to see Sangi, Ranjeewa and the Tillmax team.

– Tillmax
Tillmax, who focus largely in retail, were responsible for the idea of using TouchStock as a customer facing price checker and in 2018 they also began international installs in Sri Lanka. We loved their antique cash registers and 'TIIL MX' registration on their bus. All product brochures were on display and their showroom had a great demo setup.
Ky reported 'We've just been to see the awesome Tillmax! They have a great HQ, very well presented and clearly have great pride in their brand. They are also representing us well especially in the retail sector and are doing great things with our software within that environment. Tillmax are a lovely team. They have the tidiest workshop I've ever seen. Tillmax plans to expand into more international markets in 2019 so that will be exciting to see. It was great to see Ranjeewa again'.
The guys then went to see EBM, a fairly new ICRTouch Partner and Sharp distributor.

– EBM
They had a nice demo setup with TouchOffice Web and TouchKitchen. They had their new posters up already and made good use of the ICRTouch foamex boards. Connor has been learning ETAL scripting and how creating custom features on the till can give them the edge over competitors. They have even created their own licence portal.
Ky Reported, 'We just visited Jon, Max, Conor of the EBM Epos team. They have fair size HQ with a demo area and meeting area. They have had plenty of years of experience within the industry. EBM are relatively new to ICRTouch and became a partner only a couple of years ago, but they have never looked back! Impressively, they have developed a few of their own ETAL Scripts for TouchPoint. They take pride in the presentation of the software, having created their own skins for each of the products. Overall, a nice bunch!'
Next visit the guys went to see Nick, Martin and the ASG team.

– ASG
They have a lot of our software on display at their modern new premises in Milton Keynes, give out a lot of our brochures and have created their own skins to a lot of the different software products. They have done a lot of great installs at Upper Regency Cafe & Bistro, JNW Enterprise Group, Stony Stratford Conservative Club, Souvlaki City and more.
Ky reported, "So we've just seen ASG. They have just moved into their new premises and have been dressing it up purposely for their ICRTouch EPoS, CCTV, and access control services. ASG are are all about the ICRTouch. They have embraced all the new products and are well up on their tech and are keen to start selling the SelfService software… great team! We thank them for their time with us today'.
Next up Ky and Paul went to see Eastern Cash Registers.

– ECR
ECR does a fantastic job of putting together case studies on their website and being active on social media. The new posters were up in their showrooms and the 'How To Spot Till Fraud' handbook was out on display. They have case studies on Wells Crab House, Chip Inn, The Railway Tavern and many more.
Ky Reported, 'So we went and saw the chaps at ECR, they have a very funky HQ and a nice demo area. They represent ICRTouch with pride and as a long-standing partner they are a great team with happy vibes'.
The guys then went onto visit our 2019 UK Best Partner PanaEpos.

– PanaEPoS
They have a great fleet of branded vans and nice big premises with a showroom and pop up bar area running TouchPoint, TouchKitchen, and TouchMenu. Their warehouse is full of tills ready for installation and consumables.
Ky reported, 'We visited PanaEpos late yesterday afternoon to see John, Jason, Dan, and the team. We had a good chat about the exciting things going on with ICRTouch and the EPoS industry. They have a great headquarters on an old RAF base. PanaEpos have worked hard recently to win UK Best Partner in the 2019 iTouchies. We would like to thank John and Lorraine, for their hospitality and looking after us, also we thank them for the goodies (for the whole of the ICRTouch team), beer and sweeties are always greatly received! P.s. We look forward to when the chaps from PanaEpos visit us at ICRTouch for round two of pool! 1 – 0 to ICRTouch'.
Next up was Gardiff EPoS.

– Gardiff EPoS
Gardiff EPoS supply and support a number of big clients for ICRTouch such as Silverstone and The Chesterford Group. Ky reported, 'We've just been to see Gardiff. Their large industrial-style headquarters is very impressive. It was great to see and catch up with Carl, Phil and the team. Gardiff like to target the big opportunities in the market which cements their Gold Partner status in our industry.'
Third leg of the tour completed – Midlands UK.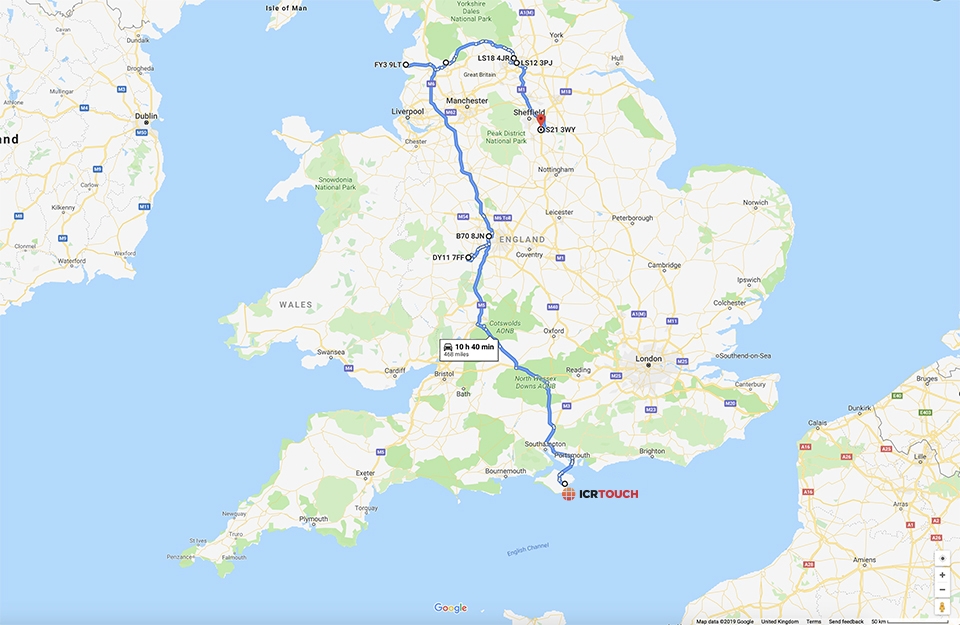 Third Leg Of The Tour Started with Langley Business Systems.

– Langley Business Systems
LBS had a great ICRTouch setup, with digital screens showing TouchKitchen, TouchOffice Web and customised TouchMenu's and CollectionPoints as well as customised TouchPoint skins.
Ky reported, "It was great to see Rich Cox and the team again as well as put some faces to names. Their HQ is impressive. They have great reception and demo areas for hospitality and retail, a training facility for staff as well as their customers. They are extremely proud of their gold partner status! LBS have our solutions on every screen you can see in the building. A big thank you for their hospitality, we very much enjoyed the buffet!".
The guys then went up to Blackpool to see John and the Norcash team.

– Norcash
Norcash have done some great installs recently at Pure Leisure, Waters Edge Restaurant, Brown Sugar, Thingamajigz, The Alley and much more in the Blackpool area.
Ky reported, 'It was great to meet the team finally! Their HQ is very clean and well laid out, including a great demo area boasting all ICRTouch products. Norcash are extremely happy with the new marketing material. They have an ICRTouch demo area including many of our products such as TouchMenu, TouchKitchen, customer displays, EFT, PocketTouch and more. We thank them for their time and hospitality, a lovely visit!'
Ky and Paul then went on to see Tills Direct.

– Tills Direct
Tills Direct who moved to a much larger office a couple of years ago and are doing great business with us.
Ky reported, 'It was great to see them and meet the team. They have a very funky HQ. The interior was designed by themselves. Personally, I love the use of the 2 line rear displays as signage. We thank them for the cakes and for the games of pool: 2 – 0 to ICRTouch'.
Later that afternoon Ky and Paul went on to see Mobo Innovations.

– Mobo Innovations
Ky reported 'After leaving Blackpool we travelled to just outside Preston to see Mobo Innovations. It was great to see Michael (unfortunately Jonathan couldn't make it). Their HQ is stylish in a very unique industrial estate of converted barns in the countryside. They are great advocates of TouchOffice Web and how it has changed/ improved EPoS as a whole and it allows them to provide remote support much easier. They are also very proud of their Silver Partner status.'
The guys then went on to 1Call4 (formerly Alt-P), who have done a lot of business with ICRTouch over the last few years.

– 1Call4
They do a great job promoting digital signage and have done some great installs at Cannon Hall Farm, Rockware Sports & Social Club, Wetherby Whaler, Thorncliffe Cricket & Social Club and more.
Ky reported, 'So we went to see 1Call4 in Leeds, it was great to meet the team (really nice bunch) … they have a modern HQ … they are embracing our newer products and are looking forward to what ICRTouch will bringing out in the future. A well deserved Gold Partner right there!'
Ring A Till were next on the tour for the Ky and Paul.

– Ring A Till
Ky reported, 'We went and saw Ring A Till yesterday afternoon. It was great to meet Martin, Karen, Connor, Mark … lovely Team… they have a great HQ, which started as a single shop and then expanded to HQ you see today… a Casio background/heritage but now mainly ICRTouch, they are up with all of our latest products and are dabbling with SelfService. Ring A Till are at the cutting edge of Etal and are able to handle virtually all of their customer requests because of this… and can we say fantastic feedback which is always helpful and we thank them for their time and hospitality today.'
Finally, Ky and Paul visited Steve, Josh and Laura at Tillpoint.

– Tillpoint
Tillpoint who have an impressive customer base in Sheffield including Anston Cricket Club, Gracies Shakes, Dead Poet's Inn, Brecks Snooker and more.
Ky reported, 'It was nice to meet them, although with Steve it was brief as he had to do a demo for a potential customer. Their HQ was fresh, boasting ICRTouch posters. It was good to see that they are putting our solutions in as many Retail environments as they are into hospitality. They are very happy with their Silver Partner status. A nice visit and we thank Tillpoint for their time today.'