Sarah Adams of Suicide Prevention & Intervention IOW says:
This donation of £2,000 has really brightened up our Christmas for the front line team and Trustees. This very kind donation from Mr Ringer of ICRTouch will keep our front line operational over the Christmas and New Year period. As with any charity this year we have lost out on a number of events we have arranged to help us raise much needed operational cost. We are really thankful to ICRTouch, their partners and staff.
Colin Ringer, CEO of ICRTouch
The mental wellbeing of others is something that is close to my heart, especially during these trying times. 2020 has been an awful year for so many. People are worried for their health, their jobs and money. Whilst many are isolated from friends, family and workplaces. Some worry for the future and for how long this situation may continue. For these reasons we have chosen to make this donation to SPIIOW.
For ICRTouch, this year has been very challenging since more than half of the independently owned pubs in the UK are running an EPOS system supplied by us. During this time our staff have worked flat out making changes to our software to help these businesses adapt and continue to trade. One thing I hope is that during the Christmas break our staff will take time to reflect and understand the difference that they've made – this year – to the lives of so many.
Xmas Party Heroes
With staff Christmas parties likely to be cancelled this year, you may be wondering how you can spread some Christmas cheer?. We're reaching out to Island businesses asking you to become our Xmas Party Heroes this festive season by donating some of what some you may have spent at the Christmas party to help keep us operational.
It's only with your support that we can continue our life-saving work. Your donation is the best present this Christmas. If you'd like to take part, you can make a donation on our website https://spiiow.org/donate/
Thank you so much for your support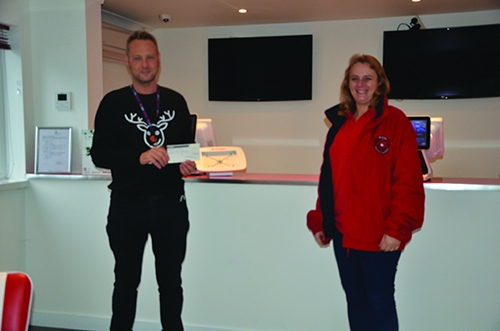 Someone at risk from Suicide?
If you think or believe that someone you know or have seen someone who is at risk from ending their life from suicide you can make contact with our front line team 24 hours a day in the following ways:
SPI Crisis Number (Suicide Intervention Only) (01983) 667 247 This number is only to be used if you or someone you know is at risk of ending their life by suicide.
Emergency
If you or someone you know has already acted on the thoughts of suicide please call 999 and ask for the ambulance, giving them as much information as you can
Anyone interested in learning or joining the on-call from line team can contact SPIIOW at hello@spiiow.org